THE THREE TIED Rubio Long Snappers will compete to have their name added to the prestigious David Royce Trophy!
Camden Boyle, Dylan Castro, and Ethan Tabel will compete for a Winner takes all Match Up on January 24, 2016! The Trophy presentation will follow immediately after the Championship Competition. ALL ARE WELCOME!
THE 2015-2016 DAVID ROYCE SEASON CHAMPIONSHIP
January 24, 2016 @ 1:30 PM in St. Charles, IL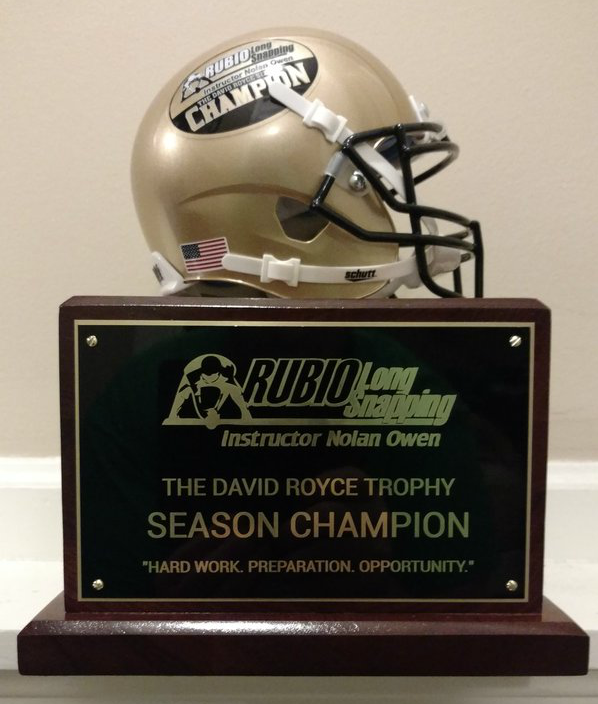 THE CHAMPIONSHIP RULES
We will have a 1 WEEK - 8 Snap Championship Competition between the tied snappers.

Each snapper has ONE Challenge for the Competition.

The David Royce Season Championship WIN will go to the snapper who achieves the most points for that competition.

Snap Times will ONLY be used as Bonus Points, but if in the event of a tie, unlike the regular season, snap times WILL NOT be the ultimate decider.

If in the event there is a tie after the 8 snaps including snap time bonus points, we will have a Sudden Death PAT/FG Tie Breaker to determine the David Royce Season Champion.

The remainder of the David Royce Season Rule Book corresponds to the Championship Week!
GOOD LUCK TO CAMDEN BOYLE, DYLAN CASTRO, AND ETHAN TABEL!